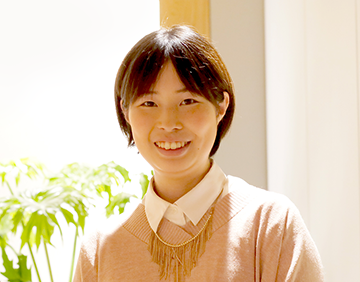 Priroda, INC./ Japanese Agriculture Company

Chiaki Onishi

Activities for agribusiness revitalization (so-called "6th industry") and research relating to chemical-free vegetables
We heard that you are representing both Priroda, INC. and Japanese Agriculture Company. Tell us about the two companies.
The companies' farms, located in Kyoto and Osaka Prefectures, are growing chemical-free, organic and naturally-cultivated vegetables and selling them wholesale by partnering with 10 farmers located across the country. The companies are also engaged in activities to spread primary sector business by accepting school excursions or foreigners. There is an "antenna shop" in Minoh city, Osaka prefecture, selling organic vegetables and the processed products thereof.
At first, we were only engaged in the primary sector business but eventually extended our business to include the "sixth industry" with a sense of necessity to create innovation from the current farming industry. This made it easier for us to produce a balance between supply and demand, increasing the opportunity for consumers to pick up our vegetables.
Yet, we were experts in producing vegetables but not in processing them so we promoted agribusiness revitalization in cooperation with Fukushima Industries Corp. As a result of repeated testing over four years, we finally accomplished the production of frozen cold pressed juice this January. Its name, "FARMACY JUICE," is a coined portmanteau of "farm" and "pharmacy." Until now, cold pressed juice had low preserving property since it had to be offered within 24 hours and thus could only be enjoyed at juice stands and was not versatile. However, FARMACY JUICE can be preserved since it is frozen. Moreover, it is only made of chemical-free vegetables grown in Japan, and thus is very good for your health.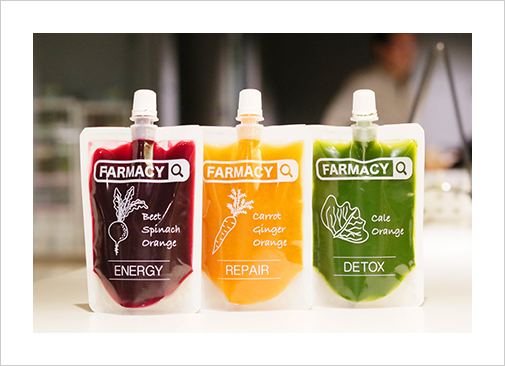 Tell us why you got involved in farming.
Actually, I wasn't born in a farming family nor was I familiar with farming but the decreasing number of farmers had always been burning in my mind.
I was engaged in various activities with an intention to do socially meaningful things from my school days, and among such activities, I had the opportunity to experience rice planting. Although numerous events related to farming are held and I myself have hosted some, I had the feeling that such events alone would not increase the number of people who choose farming as their occupation. Thus, I decided to engage in farming first as a member of an NPO and then as a business.
We stick to the production of natural farm goods such as organic vegetables. Although various means such as hydroponic culture and genetic cultivation have been established, we stick to our stance that it is not good to go away from nature and aim to realize farming with high natural symbiosis and high reproducibility.
Tell us your future visions.
We are also focusing on foreign countries. In the future, the global population is expected to exceed 10 billion, resulting in food shortages. In addition, there will be increasing demand for organic farm products due to the global warning against farming that affects soil and water pollution. With the decreasing domestic population, developing markets in foreign countries is indispensable for increasing the number of young farmers. Thus, it is necessary to revitalize agribusiness. Our product, FARMACY JUICE, can contribute to this challenge since the nutrition of vegetables can be ingested by being frozen.
We are not only expecting to expand our market but to also show the appropriate form for companies that solve issues such as regional revitalization and environmental conservation by farming harmonious with the natural environment and create new values and roles of urban and rural areas, and deliver safe and secure food to the world from the capital city of Japan which is attracting attention with the upcoming Olympic games.