A Story: Overseas development

Ms. Yachu Tsuiki, who manufactures and sells the fabric of Kokura Orimono, a traditional craft in Kokura, Kitakyushu City, Fukuoka Prefecture. With 400 years of history and traditional technology as the starting point, Ogura's new cloth, which is loved today, has been introduced to the world. We asked them about their thinking about manufacturing through fabric production and their thoughts about passing on traditional techniques.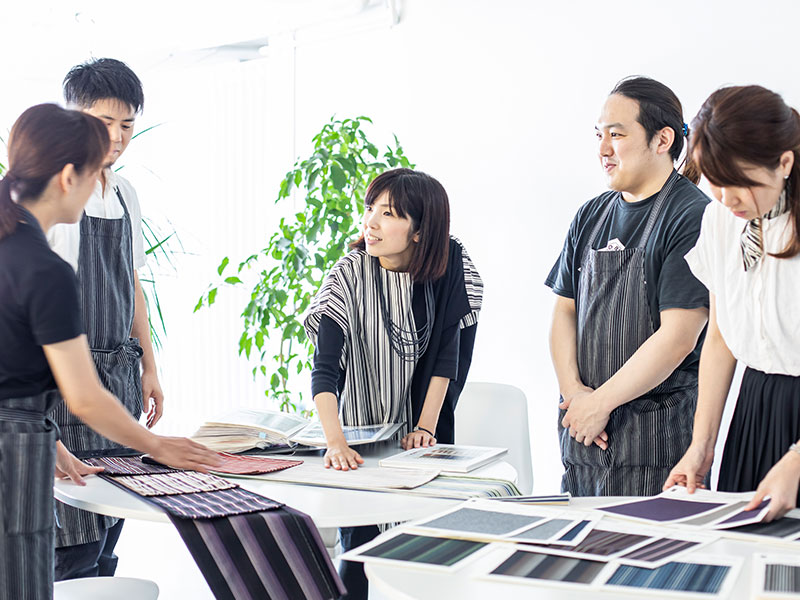 Ogura textile, which combines high design and functionality
"Ogura Ori" has been woven around Kitakyushu City in Fukuoka Prefecture since the early Edo Period. It features beautiful stripes and smooth dough. Meridians are woven about three times as dense as general textiles, and one of the most remarkable things is that they are so durable that they are said to be "spear-tight." Formerly used as a warrior's hakama and belt, our brand "Ogura Strip" offers apparel products such as clothing and bags, as well as masks and other apparel products. It is also widely used in interiors and furniture.
Ogura-ori has been used since the Edo Period for hakama and other clothing, and in the Meiji Period for men's uniforms throughout the country. However, the number of craftsmen able to handle extremely time-consuming manufacturing processes was limited, and the decline of the textile industry and the heavy industrialization of the local Kitakyushu City industry caused degraded copies to be distributed nationwide. As a result, during the war in the early Showa period, production was stopped once.
Ogura woven fabric was restored and recycled by hand based on a piece of scrap cloth I found at the antique shop by my aunt in 1984. In 2007, my mother and myself launched the Ogura stripe brand of mechanically woven Ogura cloth. However, because the weaving plant in Ogura had been disrupted, we had to outsource production to a textile plant outside the city.
As we expanded, we received more inquiries from overseas, demanding a production line capable of responding to a wide variety of orders, such as for high-mix small lots and original designs. Furthermore, there is a sense of danger that the technology will be disrupted if things go unchecked, so the company is working on the development of Ogura textiles using mechanical weaving so that as many people as possible can understand and use them. In February 2019, the company opened a new factory in Kokura. We are now able to handle a wide range of orders.
Since the launch of the brand, we have been gradually selling our products at department stores and other outlets. However, we have started to consider further cultivating sales channels, expanding nationwide from Tokyo, and disseminating our products to the world. Accordingly, we applied for the APT Women for a meeting with the Tokyo metropolitan area. I gradually sorted out my thoughts through interactions with people who could not meet within Fukuoka Prefecture alone and through interviews with my mentors. This has led to the cultivation of new markets, and I feel that the scope of our business has expanded.
Advocate a new Japanese manufacturing style
I feel that the shortage of successors in the manufacturing industry, especially in the traditional crafts field, is an urgent issue. However, depending on the company's innovations, we believe that manufacturers will be able to open up new avenues.
Originally, the dough was processed into a product before being sold, but now the dough itself is being sold in order to meet a variety of needs. As a result of these efforts, we are increasingly receiving requests that we did not even imagine, such as designing the interior of a hotel on the theme of Ogura Ori and creating a novelty for a company. I am very pleased with this. I feel that we have been able to grasp a variety of opportunities through the provision of fabric that meets the needs of the other party, while valuing tradition and not sticking to it.
What matters to you in doing your work is to act. When I feel that I may have some hint at this place, I go to that place immediately and listen directly to various people. In the past, we also participated in such prominent overseas exhibitions as Milan Salone and Maison d'Objet. The site has a high affinity for stripes that are common around the world, and the natural colors of herbaceous dyeing by hand weaving are highly appreciated, which attracted much attention from many people.
Under such circumstances, we listen to the voices of people, such as "I want a larger size" and "Can I use it as a tablecloth?" and immediately feed back ideas for improvement to suit the needs of not only the countries and cultures but also the users.
I would like to revitalize Japan's manufacturing activities by encouraging as many people as possible to understand the new concept of manufacturing.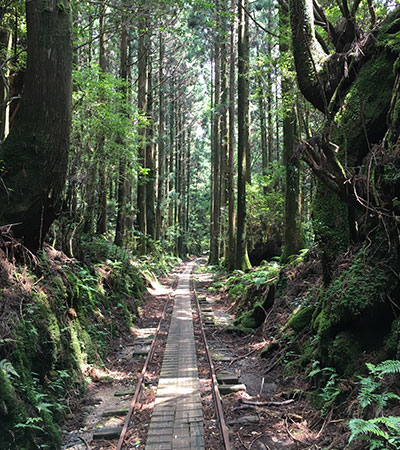 My relaxation method
I love nature very much. You climb mountains or scuba diving. There is no moment to encounter the colors of various organisms in the ocean. In that sense, there are scenes that lead to ideas for work even when you are immersed in a hobby.

Passing on the business with a flexible mindset
Ogura Ori is a traditional craft with a history of about 400 years. As a successor to this long history, we are committed to preserving traditional craftsmanship for future generations and not fearing new ideas. One example is the production of dough in small lots, which was previously considered difficult. As a result, it led to transactions with a variety of people, and I felt the potential of Ogura textiles was high. In addition, to generate a variety of ideas, we use our soft minds to propose a variety of ideas.
Just because it is a traditional craftsmanship, it is difficult to develop further if we do the same thing as in the past. For this reason, we have a sense of responsibility to play a part in history, and we are aiming for the dissemination of the evolved Ogura textile. I would like to continue to pass on the beauty of Ogura Ori, which has a long tradition, while spreading the fabric of Ogura in a new era.
In the future, I would like to take on the challenge of restoring and producing traditional fabrics that have been lost in various regions.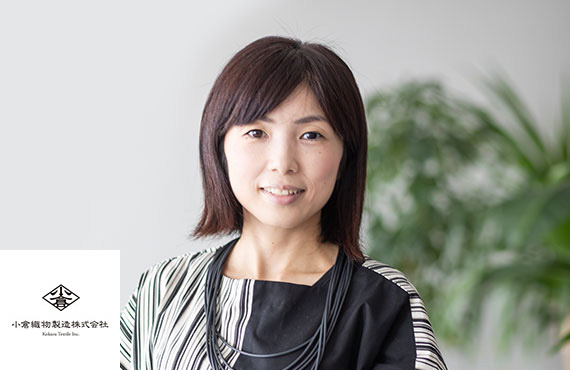 Kokura Texitile Inc.
Managing Director

Mio Tsuiki
Born in Kitakyushu City, Fukuoka Prefecture. He studied in Taiwan while at university and worked for a Japanese company in Taiwan. Recognizing anew the depth of Japanese culture while living abroad, he and his mother will join in launching Ogura Stripe, a brand of woven Ogura cloth made of machine weaving. Established Ogura Textile Manufacturing Co., Ltd. in July 2018. A private mother is a child.